'SHE' was a group exhibition curated by Akisiew (Kim Siew). It showcased the work of over 20 female artists working in a diverse  from illustration, installation, photography and film. There was also a zine library. As with 'She Led Her' (2014), which was also curated and produced by Kim, 'SHE' was also a International Women's Day related exhibition – with 10% of all sold works gifted to IWDA.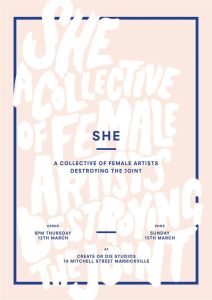 ARTISTS include:
Tracey Deep – Antwerpen – Manuela Strano – Syke, Takie – Jordan Clarke –  Irene Feleo – Marine Coutroutsios – Beth Dillon – Patch Sinclair – Danni Emery – Rachel Williams – Brooke Trezise – Akisiew, Stephanie Peters – Lisa Villani – Deb Morgan – Sinead Kelly – Caryn Griffin – Elsa McGrath – Emma Davis and Annie McKinnon – Candy Royalle
For this exhibition I made a 3 metre wide x 17cm high illustration in a japanese style concertina book that Frannie gave me a few Christmas' ago. This epic drawing is comprised of drawings of my own hands, in chronilogical order, as seen on social media image sharing site Instagram. This drawing was later made into a A5 sized zine on 'mauve' tinted paper – which looks like a pale cool blue. You can find a digital copy of this zine here: The Handbook.
The Handbook was drawn in both Sydney and New York. The first image is from Crowdy Head and the last is from NYC. The Handbook spans approximately 2 years.