In the lead up to International Women's Day (IWD) on March 8, I would like to shed light on some of my friends, housemates, filmmakers and artists who are doing important work. This years IWD theme is "Inspiring Change" – so here are some strong Sydney-based creatives who I think are doing a good job.
Lucy Randall is the creator and coordinator of Seen & Heard Film Festival, which turns 5 this year! She completed an honours degree in film in 2008, and in reaction to the hermetically sealed "boys club industry that was Hollywood" Randall set about creating a platform to recognise and engage with work by women. The festival promotes the work of women in key production roles i.e. directing, producing, writing etc. From its small beginnings at Blank_Space gallery in Surry Hills in 2009 the program has shifted to a larger venue, The Red Rattler where it has seen jam-packed audiences since 2010. This huge and ongoing logistical feat shows great determination and is effective in supporting and celebrating the presence of female creatives in cinema. The festival program was launched with special guest, David Stratton (At the Movies) where he discussed censorship, pornography and art with the release of Abdellatif Kechiche's 'Blue is the Warmest Colour' based on Julie Maroh's graphic novel. This years festival runs 6-20 March on consecutive Thursdays – for tickets see here.
Maisie Cohen is a film, animation, radio and zine maker who earlier this year produced a documentary special for ABC Radio giving voice to people from the LGBT community living under discriminative laws passed by the Russian government led by Putin. This is a hard-hitting and important listen 'Fighting for the right to fight, gay and lesbian Russians reflect on 2013'. She also made a shorter piece about the Bechdel/Wallace Test in Film: 'Sweden's film classification move highlights missing women of cinema'. In this piece you will hear filmmaker/director Sarah Steel talk briefly on the topic of older female invisibility, which her short film 'Now You See Her' (NYSH) explores. NYSH is based on a story by Marc Smith, adapted and produced by Steel and Alison Kirwan. I was happy to be involved in this project by making the opening titles.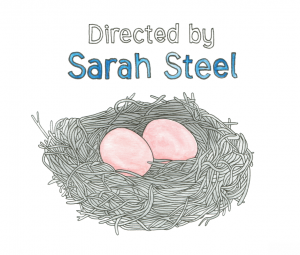 In response to underrepresentation of women in the film industry, Steel initiated 'Pass the Bechdel Test' – a grassroots campaign to address sexism in film culture. "In an analysis of 500 popular films in 2012, speaking parts were around 28.4% female." This statistic is pretty disgraceful! For more information on this campaign and its intended outcomes please visit: http://www.passthebechdeltest.com/
Or you can go directly here to sign the Petition: http://www.thepetitionsite.com/215/165/177/pass-the-bechdel-test/
The Bechdel/Wallace Test originated in a strip of serial comic 'Dykes To Watch Out For' in 1985, where Bechdel immortalised her friend Liz Wallace's idea in 'The Rule'. See below: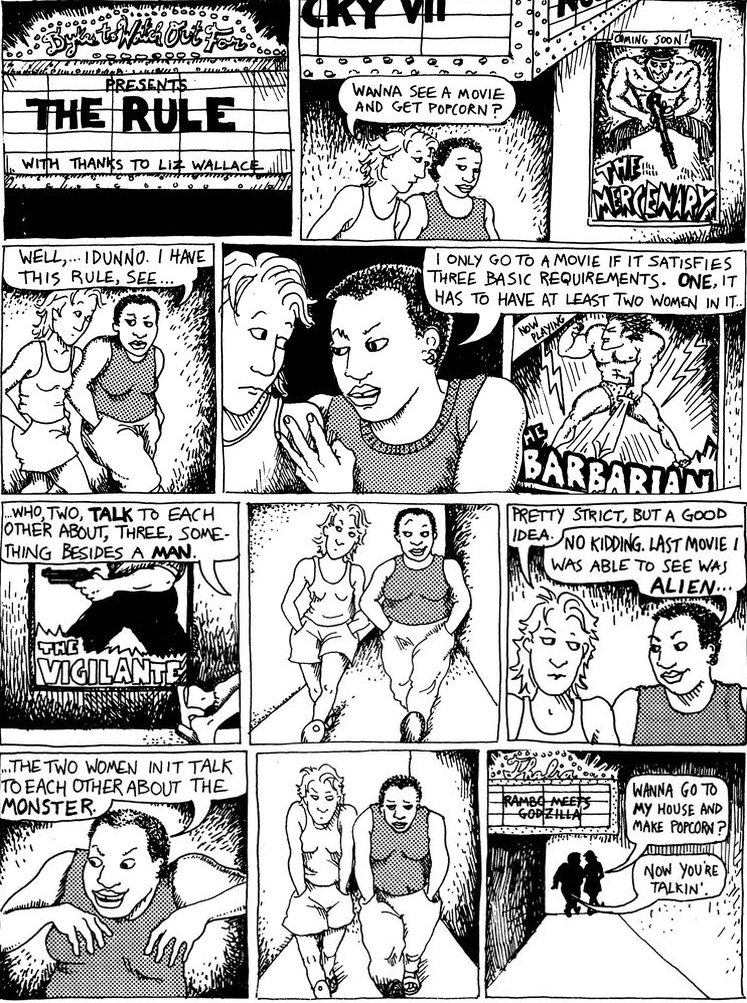 In different but related news, I will be part of a group show called 'She Led Her' among 7 fiercely talented female artists. Please see the invitation below for more details (flyer image: Oksana Valentelis). Hope you have an inspired IWD!  Patch x