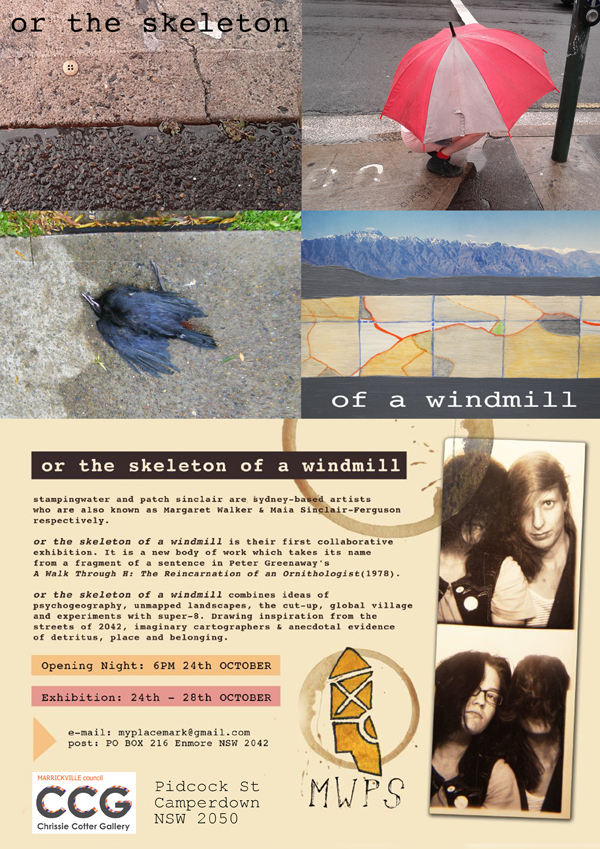 'or the skeleton of a windmill' was an intermedia concept show made with Margaret Walker. It revolved around an attempt to pay homage to a 1978 Peter Greenaway film 'A walk through H: the Reincarnation of an Ornithologist' by creating a video narrative of our own.
In response, narrated by 3 fragmented female voices, we made 'A walk through a Thousand Plateaus'. The film/video is a collaborative work by Margaret Walker and Patch Sinclair, co-written by poet Liv in(the)finite, with original score by Ashley Blackmore.
It first screened as part of 'or the skeleton of a windmill' @ Chrissie Cotter Gallery (OCT 2012). It recently screened at 'Drop Block Party: Word Travels' @ The Rocks (DEC 2012).
Margaret Walker – http://stampingthewater.wordpress.com/
Liv in(the)finite – http://inthefinite.wordpress.com/
Ashley Blackmore – http://ashley.blackmo.re/
The exhibition was hung at different heights including on lightboxes and on the sides and tops of plinths dotted about the room. The way the physical space is mapped by the onlooker appears as though a drift, meander or dérive.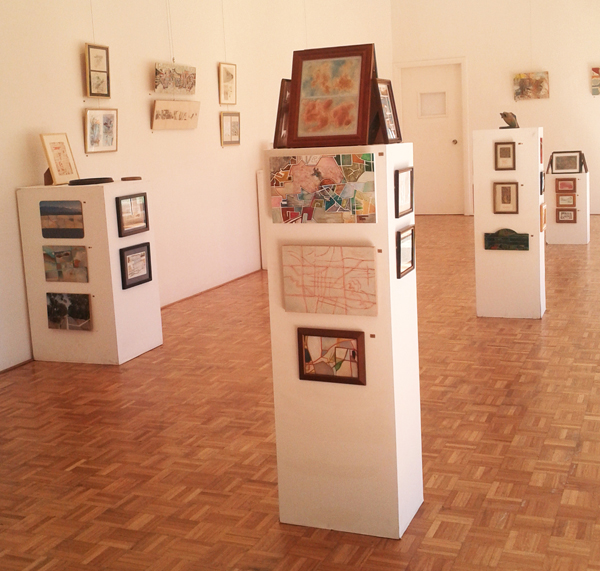 There were drawings and paintings of dead birds, photographs of the sidewalk, rudimentary cartography of places real and imagined as well as collaborative maps and works framed together.
Dérive; a call back to a tool used by the Letterist International and later by Guy Debord and the SI for exploring a theory of psychogeography.
The dérive, an unplanned tour through an urban landscape directed entirely by the feelings evoked in the individual by their surroundings, served as the primary means for mapping and investigating the psychogeography of these different areas
– Wikipedia, the free encyclopedia.